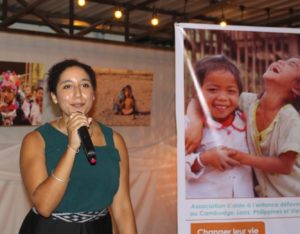 Laura present at the photo exhibition held by the association in Vientiane.
« Sabaidee*,
My name is Laura, I am 24 years old and recently joined Enfants d'Asie as a volunteer responsible for communication.
Meeting Jade, the association's coordinator in Laos, was the starting point of my adventure with Enfants d'Asie. Once she had described of what her daily life consisted, which I found facinating , I asked her if I could possibly make a film and accompany her with my microphone. She suggested I join her to visit potential beneficiaries in a village close to Vientiane. So off we went, on a trip I am not likely to forget in a hurry.
We met up with the families who lived with what one could only consider the strict minimum but who greeted us with an overwhelming generosity abundant with smiles. Each family had its own personal story but all hoped to offer more to its child.
I returned from the trip with sounds for a film, ideas and above all motivated to help the association. I work in communications so I simply suggested I help in a domain I am familiar with. The team welcomed me enthusiastically and since then I assist them in rethinking their communicational approach in the field.
I live and work in Laos now since January 2017 however my commitment to Enfants d'Asie has brought a fresh dimension to my life as an ex-pat.
It really isn't very complicated to contribute to the wider cause and if at the same time one can help bring a smile to the faces of children. What more can one ask for? »